Islamic Fashion History
Islamic fashion has been one of the most polarizing entities around the world for much of the past 20 years. Discussion and debate around Islamic fashion has undoubtedly increased since immigration has increased and Muslim communities and populations have grown in locations where they had not been present previously.
As a result, Islamic fashion has been the source of much controversy, with critics ranging from politicians and religious commentators of all faiths to Muslims themselves, who often have strong and passionate views on the issue.
We looked at some of the biggest controversies that Islamic fashion has been at the bottom of in recent years, and examined whether there had been any consequences as a result, both positive and negative.
Oppression of Women
Women's rights groups from around the world have led calls for Islam to be less strict in terms of the clothing expectations placed on women. They particularly point to women who lack confidence and have no life outside of their immediate family, and put this down to having to wear garments such as the burka against their will.
While such items are still widely worn by Islamic women, they are no longer regarded as a mandatory piece of attire, and as such many females have moved away from them. As a result, Muslim women are enjoying a much improved quality and standard of living in many parts of the world, but especially outside of predominantly Muslim communities, where their new outlook has enabled them to build relationships and feel a central part of society.
Banning the Burka
This has been a hotly debated topic in Western Europe, in particular, with some countries such as the Netherlands implementing an outright ban on the controversial burka headdress. Although accusations of religious hate and racism have been thrown around, even countries with larger Muslim populations, such as France, and especially Turkey, have also moved to restrict where are when they can be worn.
Elsewhere, governments have been more open and not looked to ban the burka, but have also stated clearly that they view it to be 'a garment of separation,' and that for an inclusive, coherent society it should not be worn.
Somali activist Ayaan Hirsi Magan has been one of the more outspoken critics, saying that it should be banned across Europe as it is not compatible with Western living values.
Islam's Position
Controversy surrounding Islamic fashion, especially around issues such as the burka and other elements of Islamic dress, including the hijab, has caused many to question the position of Islam in Western society.
Due to the vast majority of Muslims in Western countries being immigrants or descended from immigrants, there have been arguments raised that even targeting Islamic fashion is a discriminatory act. At the same time, this is counter-balanced by those who feel that Muslims should adapt to fit in with the society in which they are living.
This has happened in many cases, although it has also led to some Muslim communities across Europe becoming even more secular and withdrawn, ensuring that Islamic fashion will always be a source of controversy in years ahead.
However, modern attitudes towards Islamic dress has seen clothing, especially for Muslim women, become much more stylish and inspirational, meaning that many have been happy to wear these new styles.
Author Bio: Aisha is a fashion writer who specializes in writing about Islamic fashion, particularly how modern trends towards the hijab and other garments represent a massive change in how style is viewed within the religion, both internally and externally.
Pictures Photos Pics 2013
Pictures Photos Pics 2013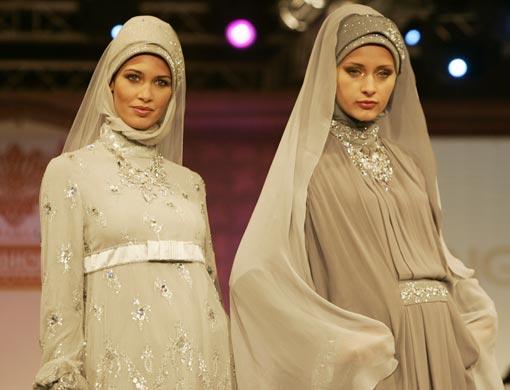 Pictures Photos Pics 2013
Pictures Photos Pics 2013
Pictures Photos Pics 2013
Pictures Photos Pics 2013
Pictures Photos Pics 2013
Pictures Photos Pics 2013
Pictures Photos Pics 2013
Pictures Photos Pics 2013
Pictures Photos Pics 2013